ATTENTION! You can use that opportunity if the number of features is two.
For example, you have Color and Size. If you want to hide all sizes, which are not available, when you select some color, than you have to do the following: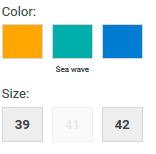 Find symbol code of your feature (Shop - Settings - Features nad ).
In theme settings specify symbol codes of features for which the rest will be hidden.